Fuelling Goes Live at Yearsley Logistics £65Million Distribution Centre
Pennine Pump & Tank Co. commission the first phase of Yearsley Logistics' brand new £65million cold store development in Peterborough
The refuelling facilities at the new 20 acre site in Peterborough went live earlier in October when the gated forecourt was completed.
The brand new forecourt features:
5 x  FuelQuip ATEX Alpha high speed fuel pumps
4 x GreenChem Adblue dispensers,
3 x Jigsaw fuel management terminals
1 x Adblue storage tank
3 x 50,000 Ltr underground fuel storage tanks
Pennine Pump & Tank consultants were heavily involved with the design of the refuelling facilities site and worked closely with the site architects to construct the best possible design.
Once the plans were finalized and confirmed, work began on the turnkey project with ground works being excavated to accommodate 3 x 50,000 litre Cookson & Zin underground fuel storage tanks and subsequent pipelines.
Strict time schedules had to be adhered to as the 395,000ft2 temperature controlled cold stores and office buildings were also being constructed at the same time. Pennine Pump & Tank's team of highly skilled engineers had to collaborate closely with the other building contractors in order to work in conjunction and complete the schedule of works safely, efficiently and on time.
Once the tanks and subsequent pipe work were in place, the area was filled in and the civil works on the forecourt commenced. The concrete mix was poured and the new forecourt began to take shape as the 35mtr high building with an adjoining 23mtr high office block was also constructed.
The plans for the 150,000 pallet cold store were slowly coming into fruition.
3 x Fuel Management Terminals and 5 x pumps and 4 x dispensers in total were installed on the new fuel islands, designed for an efficient and streamlined refuelling process. Pipework for an extra 2 x pumps and 1 x extra terminal have also been laid to allow for site expansion and increased traffic if necessary.
The Jigsaw system is installed at 12 other Yearsley depots and so will provide continuity for both drivers and users of the management software.
Steve Preston had the pleasure of commissioning the installation and commented,
"I am once again delighted to have been involved with the construction of yet another Yearsley Super Hub development – It has been a huge success." Managing Director – Pennine Pump & Tank
Industry experts Pennine Pump & Tank Co. have worked in partnership with Yearsley's Group Ltd for many years and in 2016 installed the refuelling facilities at the £15million Superhub in Newark. As trusted contractors and preferred suppliers to Yearsley's, Pennine Pump & Tank were the natural choice to entrust the completion of their latest turnkey development project at the Peterborough site.
" We have maintained the refuelling equipment for Yearsleys since 1998 and are extremely proud to have been a part of Yearsley's incredible journey for the past 20 years.
We look forward to continuing to offer our support and working together on future projects and developments." – Steve Preston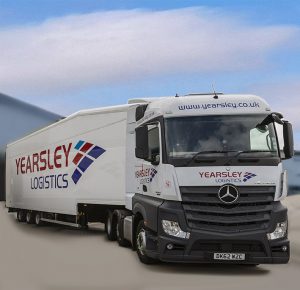 Yearsley Group Logistics operates from 12 other sites, including Superhubs at Heywood and Birmingham. Pennine Pump & Tank Co. provides service and maintenance to the refuelling equipment at all of these sites to ensure that Yearsley's infrastructure of over 300 vehicles fuel up smoothly and efficiently.
The Peterborough depot, known as SuperHub South, is located within minutes of the A1, and has superb transport links to all major ports and the South, making Gateway Peterborough one of the most well-connected distribution sites in the UK. Delivering in excess of 12,000 pallets per day and 2.5 million pallets annually to over 4,500 different food service locations throughout the UK it is critical that Yearsley Group operates a well run fleet of vehicles in order meet the demands of the ever increasing market.